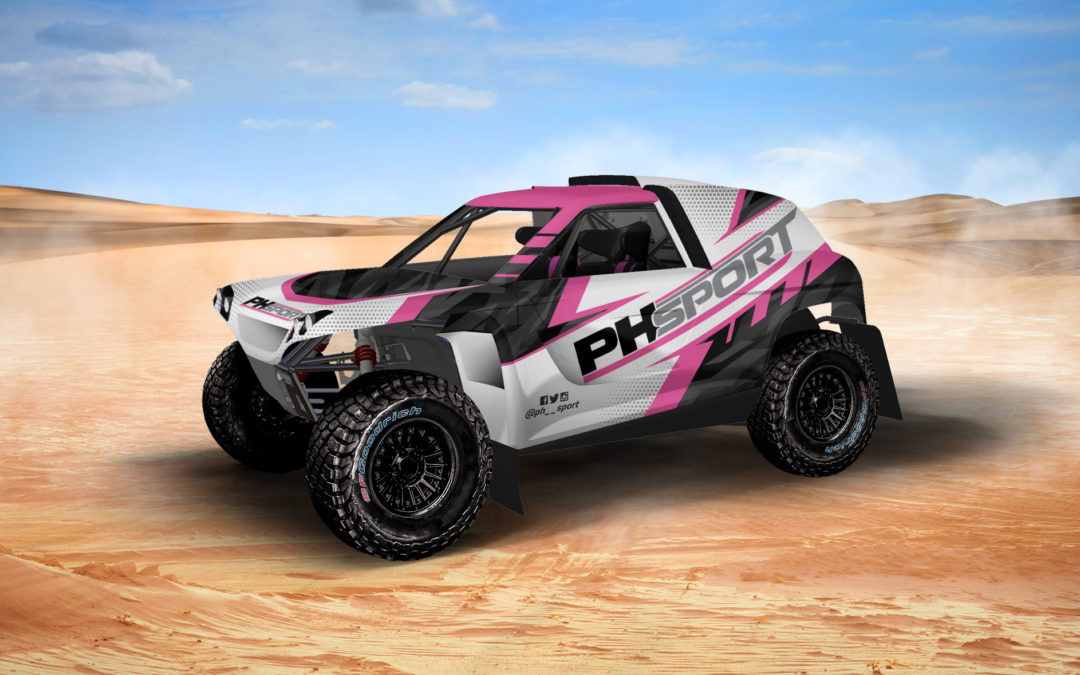 PH Sport has been present in off-road rallying since 2016 and it has deepened its links with the sport with the most advanced SSV TP3 ever put on sale: the Zéphyr. This model will go on sale and will also be available for rent with the 2020 Dakar in Saudi Arabia in sight.
PH Sport is the leader in France in the preparation, operation and rental of rally cars from the regional level to the WRC. It first became involved in off-road rallying by renting out ex-works Peugeots from 2016 onwards. The team improved year after year and helped Khalid Al Qassimi to sixth place in the 2018 Dakar and Sébastien Loeb to a podium finish in the last one.
A new chapter is about to begin in this activity with the Zéphyr, an SSV T3P produced by the team based in Langres (Haute-Marne).
Based on the Can-Am Maverick X3 the Zéphyr stands out from traditional SSVs thanks to light carbon bodywork designed around a tubular chassis homologated by the FIA creating a credible, economical and suitable alternative to the vehicles in the T1 category.
While the engine with its air restrictor is the original one to respect the FIA regulations, the other elements of the vehicle have been the target of specific attention. Among these are the latest 3-way BOS dampers with hydraulic compression and rebound stops, ultra-light springs, an electric harness that enables the latest ECU to be installed as well as an electronic central dashboard and data acquisition system.
These modifications combined with carbon seats keep the weight down to 900 kilograms (with an on-board spare wheel). Two classic rims shod with BF Goodrich tyres will be available: 14 and 15 inches according to each event's regulations.
After an intensive test programme in France and in Abu Dhabi carried out by several drivers from various representative domains and world champions in their respective fields, the first Zéphyr will go on sale and for rent for the 2020 Dakar. As is the case in all its activities, PH Sport offers a top-quality turn-key service integrating all the technical, sporting and logistical aspects of off-road rallying.
The SSVs have been accepted in the SxS category since 2017 and comply with regulations that allow the transformation of light vehicles within capped costs to give amateurs an accessible, enjoyable vehicle and at the same time allowing manufacturers to spot future talents.
"We're very excited about this challenge and interest is already running very high as most of the twenty vehicles in the first run have been bought or rented. Our discovery of off-road rallying continues through new adventures and the timing seemed perfect to us to launch ourselves into the construction of Zéphyr, the most-advanced SSV available today. We've invested all our knowhow in this credible economical product, which is a great alternative to the T1. We're tackling this new chapter in our activities with humility as we still have a great deal to learn. We would like to thank the many competitors who have already chosen to join us and put their trust in us so early in this project."

Bernard Piallat, PH Sport manager
PH Zéphyr – Technical specifications
Base: Can-Am Maverick X3
Chassis: tubular, homologated by the FIA
Bodywork: full carbon
Dimensions: width increased to 2.1 metres
Dampers: latest three-way BOS with hydraulic compression and rebound stops, CAS and FCS system and ultra-light springs
Wheels: 14 and 15-inch rims (according to each event's regulations), BF Goodrich tyres
Weight: 900 kilograms (with one spare wheel).
Electronics: ECU, dashboard, data acquisition and MoTec Power Box
Fuel tank: 130 litres with carbon/kevlar housing
Plus: lithium battery, carbon seats
PH SPORT CONTACT
Tel.: +33 325 87 27 92
Email: contact@ph-sport.com
Web: www.ph-sport.com
Facebook: PH Sport
Twitter: @ph_sport
Instagram: @ph_sport