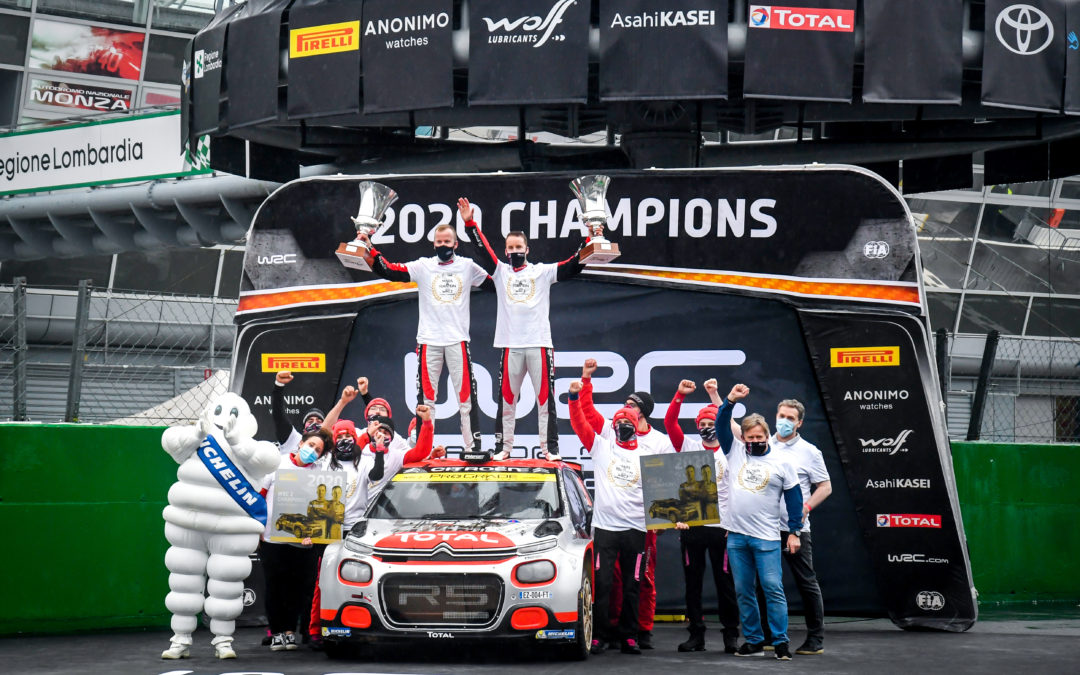 Mads Østberg and Torstein Eriksen won the ACI Rally Monza to score their fourth WRC2 success of the season and wrap up their maiden World Championship title, the seventh for PH Sport since the beginning of the millennium.
Already victorious in Monte-Carlo, Sweden and Estonia, the Norwegian crew and their Citroën C3 R5 overcame the pitfalls of the FIA World Rally Championship season-finale to clinch the extremely coveted crown.
Included for the first time in the calendar, the ACI Rally Monza offered an unprecedented challenge with its winter weather, its stages on the famous "Temple of Speed" circuit and its access roads. Third at the end of a muddy first stage, the duo took the lead in the snowy mountain tests on Saturday before controlling the proceedings until the finish.
With four wins and a fourth place in five starts this year, Mads Østberg and Torstein Eriksen made history by becoming WRC2 World Champions by four points ahead of Pontus Tidemand, crowned in the category in 2017.
The Norwegian pair also added a line to the PH Sport record in WRC, opened by the Sébastien Loeb and its Citroën Saxo S1600 in the 2001 Junior WRC season. A year later, Daniel Solà followed suit with the same model before Sébastien Ogier revealed himself to the world in 2008 with a Citroën C2 S1600. In 2013, PH Sport won the inaugural WRC2 campaign with Robert Kubica and his DS 3 RRC before Stéphane Lefebvre and the team achieved the Junior WRC / WRC3 double with a DS3 R3 the following year.
All the PH Sport team would like to thank Mads Østberg, Torstein Eriksen and Citroën Racing for their cooperation during a year to remember for many reasons!
Mads Østberg, 2020 WRC2 World Champion
"What an unbelievable feeling! I am really happy, especially as it was such a difficult weekend, with so many ups and downs all through the year. We were very much the underdogs in the championship but we won through persistence and thanks to the excellent development work done on the C3 R5. The whole team, both at Citroën Racing and PH Sport, did an amazing job throughout the season to get to where we are now!"
Bernard Piallat, PH Sport Director
"Obviously, I'm delighted with the result, especially as it was far from being a foregone conclusion. This is PH Sport's sixth world title in a Citroën, with Mads' win adding to those of Sébastien Loeb in 2001, Dani Sola in 2002, Sébastien Ogier in 2008, Robert Kubica in 2013, Stéphane Lefebvre in 2014. The team, as usual, did an extraordinary job throughout the season and the upgrades introduced by Citroën Racing also paid off. Everything worked well. This weekend was no different, with good weather information provided by Météo France and excellent work done by the ice crews, in very tricky conditions."